The footballer of Almere City F.C and the former Espanyol and Villarreal spoke to SPORT after getting his team's historic promotion to the Eredivisie
"About a year ago playing in the First Division was an impossible dream"secures Alcanar's flank
Away from our football are players embarking on an adventure abroad, well beyond the five major leagues. Manel Royo (Alcanar, 1994)decided to try his hand at Dutch football and found a gold mine in Almere, a city 20 km from Amsterdam. He arrived in the summer of 2022 amidst a sea of ​​doubts, and a year later he starred in the club's first promotion to the Eredivisie.
Manel Royo is one of the three names of the 'Spanish Almere' together with Álvaro Peña (Bilbao, 1991) and Pascu (Santa Pola, 2003). Royo, at 29, is a football globetrotter. He spent a short time at the Nike Academy in England and tried his luck in Teplice in the Czech league.
Things didn't go well for him abroad, but he decided to give himself a third chance. Few dare to try after falling more than once. Manel got on a plane bound for Almere which changed his life. I still haven't finished digesting the dream promotion a eredivisiesits down with SPORT to talk about everything.
Q: Have you come home yet?
A: Yes. I'll need to sleep, it's been a tough two nights. I won't tell you we did the Jack Grealish one, but something similar.
How did you experience the entire promotion celebration?
Very good. The best thing of all has been watching the club grow. Almere finished in the bottom last year and although there was some skepticism, people believed it until he was promoted. Of the 2,000 people who initially came to the stadium, we had a celebration party yesterday with more than 10,000. We have created something. Almere is a very big city where everyone is from Ajax.
"Ajax stadium is 20 minutes from my house"
It can't be easy to compete with this.
It's like Badalona with Barcelona. The people who were born in Almere first are now up to 43 years old and all the others have come from Amsterdam. Ajax stadium is 20 minutes from my house. It's very easy to go and see Ajax, but it's true that we have now planted a seed and people are passionate about it.
How was this process?
I compare it a bit with Villarreal in Spain. Almere is a team created in 2001, with little history. It was bought by a very wealthy family in the Netherlands, the Kronenbergs, and little by little they invested. We have first class facilities. In the sports city there are three natural grass pitches for the first team only, in addition to the stadium.
"Many matches suspended for throwing objects onto the pitch"
Does it have anything to do with what you saw in Spain?
I'm having a hard time comparing it. There are very few teams with these structures. At Espanyol we sometimes took the field from the first team but there weren't any left. Sowing this seed for our promotion to the First Division has an impact on accelerating this process. Now we will work to expand the capacity of the stadium.
We will have to solve the problem of your stands where local hobbies and visitors coincide…
Yes, certainly. Now they are separated by a fence and the police and there are no seats, our radicals are standing. They will double the capacity of the stadium, and surely they will do it in another way. Radical fans in the Netherlands are much more so than in Spain. Also in Second many matches were suspended due to the throwing of beers and objects on the pitch.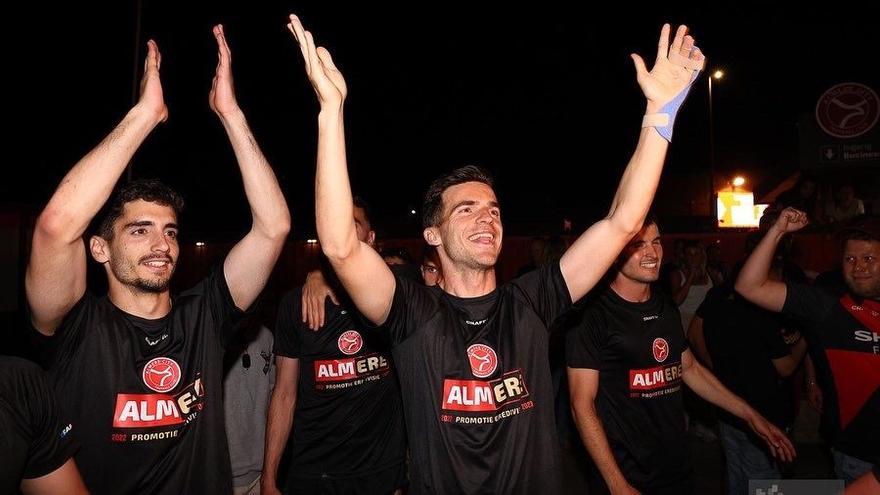 You were in the Espanyol branch and spent many years in Second B and Third grade teams. How did you get the offer from Almere?
I have had two previous experiences outside that have not been easy at all, neither in terms of sport nor in terms of life. I was a little skeptical about going out again. The club contacted me directly, a very difficult thing to happen in football today. I had the opportunity to continue in the First RFEF but I decided to risk it and go out again.
And in the end it went well.
Yes of course. I took a risk and went from the descent to the Second RFEF to the climb to the Eredivisie with a year difference. Football is a roller coaster that gives you these surprises. It helped me a lot when the Almere coach called me directly. There was already a Spaniard who had signed a month before me, Pascu. This gave me some confidence.
He came from a situation similar to yours.
We were very lucky. The day at the club is in English which makes our integration much easier, and the assistant coach speaks Spanish. The club gave us everything we needed to make us feel at home. The fact that we are three Spaniards always helps and we have created a community that will last over the years.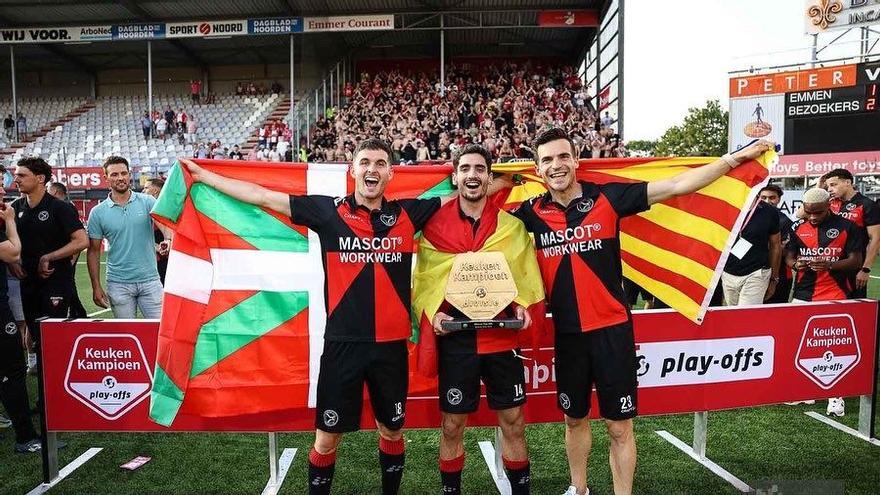 You have a contract until 2024. Would you like to continue for other years at the club?
The three Spaniards have signed for two years. I've signed two, and obviously when there's a promotion everyone wants to continue. The three of us played many minutes. Things always sound like things, but it's also rewarding to play for what you've earned. About a year ago, playing first base with Almere was an impossible dream.
"In Spain they forget that players are people too"
Have you noticed much difference between investing in lower categories in the Netherlands compared to Spain?
If many. The second division of Holland is very tough, and when it starts there are 8 or 9 teams on paper with the obligation to go up. They are worth nothing else. In Spain it is very difficult to find stadiums with 20,000 people in the Second Division if they are not from a big team. A lot happens here, even in the Second Division. In the Netherlands they give more time to projects, they don't burn everything as quickly as in Spain. They seek the player's growth in an integral way and listen to the player.
Do you feel better as a professional who earns less?
Yes, compared to where I'm from. In Spain they apply the 'we pay him a lot and he has to do', and they forget that players are people too. On the other hand, in the Netherlands they won't skimp on this global growth to pay you more. Even physically you work a lot more than in Spain. And it all translates into the field.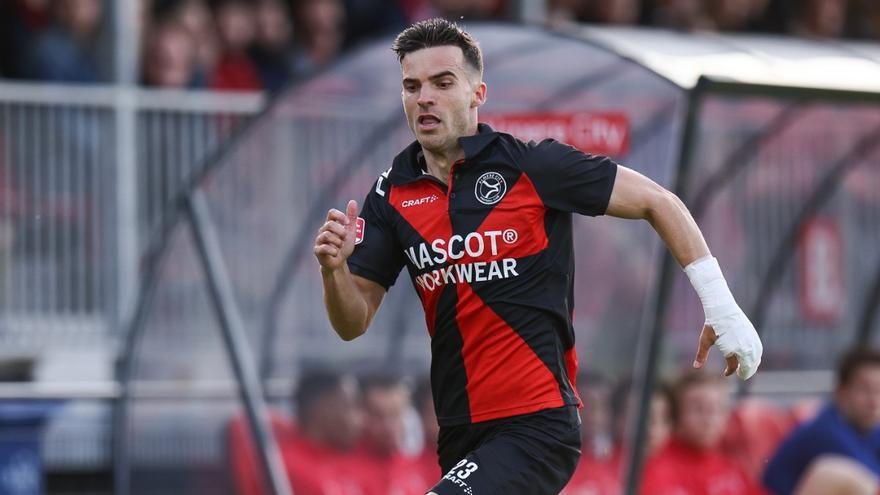 This investment also makes players from abroad feel more comfortable.
Completely. We also come with this responsibility because when you come from abroad you feel you have to meet the expectations. We Spaniards knew what we were looking for and the fact of being promoted fills us with joy. In this playoff we hugged like never before.
Looking forward to next season. Do you see yourself capable of competing in the First Division?
We are prepared. We followed a plan for the whole championship. We received a lot of praise for our combinatorial game and followed through with our plan to the end. The coach called us the 'black horses' because he says he represents that team that had the ability to do something great but people didn't see it. Yesterday at the celebration he appeared in a black horse mask. Following this plan we can compete while having fun.
Even against the giants?
Well… Feyenoord, AZ, PSV and Ajax are really top level teams and we will have to adapt. We are a team that knows how to compete perfectly and does it with a happy game.