They have won 18 titles since the 12-13 season, only with the arrival of Ferran Soriano and Txiki Begiristain at the club
They are the only English team to have played in the Champions League in the last ten years.
Manchester City have won the last three editions of Division 1 of the U21 Premier League. In other words, they had, and still have, the best reserve team in England. And if we looked down, we would find champion teams in the youth, cadet, children categories…What does this have to do with Pep Guardiola's team's recent Champions League conquest?
Very easy: the historic triumph of the 'cityzens' is the result of more than a decade of implementing a quality-based club management model and gaming system. In front of the engine room, in the leadership of the club, Ferran Soriano, the managing director. In the sports side, in the design and development of the club's competitive DNA and in signings, Txiki Begiristain.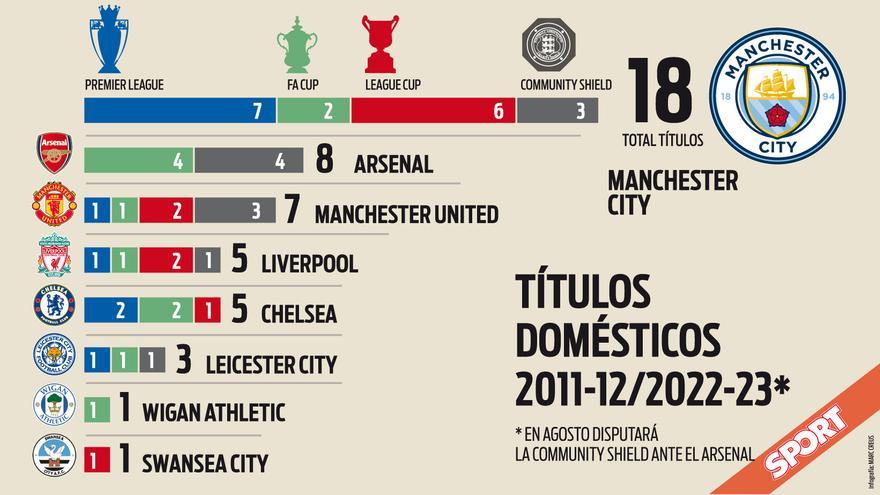 The results speak for themselves. Since Soriano and Txiki have been at the helm of the Mancunian ship, their dominance in English football has been overwhelming. In order not to stun the statistics, these data are enough: 18 national titles, more than double that of their pursuer, Arsenal, with eight. To have won seven Premier Leagues, with the level of competition in England, is just amazing. Today the king of Manchester is not United, it is City. Obviously the arrival of Pep Guardiola, and the signings they gave him to support his idea of ​​the game, allowed City to be the great protagonist of English football with a showy and attacking game. their possession two records that demonstrate this commitment to attacking football: he scored 106 goals in the 17-18 season, at the same time as he achieved the greatest goal difference for: 79.
The best European coefficient
However, there is another absolutely revealing piece of information that reinforces this dominance: City are the only English team, the only one, to have been present in the Champions League in the last ten years. City are currently the European team with the best UEFA coefficient, with 145,000 points, overtaking Bayern Munich, Chelsea, Liverpool and Real Madrid.
All these sporting merits are accompanied by equally spectacular financial results. Today City are the most valuable football club in the world, overtaking Real Madrid and Barça. It is also, in the absence of closing the balance sheet for the 22-23 academic year, the one that generates the most revenue, exceeding 730 million euros, more than half from merchandising and marketing.